According to the Bureau of Labor Statistics, 2.7 million nonfatal workplace injuries and illnesses were reported in by US employers in 2020,. That equates to a workplace injury being reported every twelve seconds.
Workers' Compensation insurance, or "Workman's Comp", provides benefits if your employee has a work-related injury or illness. It's so important that nearly all 50 states in the U.S. require businesses to provide Workers' Comp coverage.
Read this article to learn for an overview of what's covered by Workers' Comp coverage: how it works, who pays the insurance premiums and who benefits from being covered by a policy.
What is Workers' Compensation Coverage?
Workers' Comp is a form of insurance designed to provide compensation for employees who become disabled or injured over course of their employment.
The employee's medical fees, wage replacement, or other related losses due to a workplace injury are covered by the employer. In turn, the employee waives their legal right to sue the employer for negligence or make claims on the grounds of negligence that could potentially result in higher damages — also called a "compensation bargain."
Workers' Comp serves both parties by limiting and protecting them from legal recourse and medical bills due to work hazards.
What Does Workers' Compensation Insurance Cover?
Plans generally vary from state to state. However, here are the basics that are covered under a typical Workers' Comp policy:
Medical treatment for the injured employee
Temporary disability (as much as 2/3 of average weekly wage)
Total disability (usually paid in a lump sum)
Permanent impairment (such as a loss of finger)
Death benefits (usually paid to the employee's dependents or survivors)
Employers' liability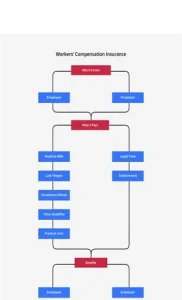 How Does Workers' Compensation Coverage Work?
Here's a breakdown of what should be done to begin the Workers' Comp claims process:
1. Report the Injury to the Employer
Typically, the employee is required to report the work-related injury to the employer as soon as it occurs to avoid compensation denial. But they can seek help or care immediately in case of an emergency.
The timeframe for reporting and initiating a claim varies in each state. Some states require three days; others allow employees to report occupational injuries and illnesses for up to a year or more.
Knowing the state's requirements and processes will help the employee understand the system and meet any claim timelines.
2. Help the Employee Seek Medical Attention
No matter what the injury is, the incident should be reported to the employer as soon as it's discovered. If the employee requires immediate medical attention, make sure they seek help immediately.
Employees should be sure to check the employer's requirements before initiating a visit to the doctor. Depending on the insurer and the state, some policies may only cover visits with health care providers that are in-network.
If the doctor knows the accident was work-related, a medical report will be sent directly to the employer's insurance company or provided directly to the employee.
Most employees are required to pay for their medical expenses upfront and are later reimbursed by the insurance company. The insurance company may choose to pay the health care provider directly in certain situations, but the employee should be ready to foot the bill at their initial doctor's visit.
3. File a Workers' Comp Claim
It is the responsibility of the employer to provide the employee with a state-mandated form to provide details and documentation of the event that caused the injury.
After processing the claims, the employee is entitled to payment disbursements for all related medical fees. In addition to payments for medical expenses, Workers' Comp also provides the injured employee with ⅔ of lost weekly wages for being out of work.
From the insurer's perspective, the Workers' Comp process begins immediately after an employer files a claim on behalf of the employee.
Note: Employers can dispute claims if the illness or injury was not work-related. The dispute process varies in each state, and it likely requires that the dispute is filed with the Workers' Comp agency or be presented to an advisory panel for a decision. Once a claim has been settled, the employee ceases to have coverage rights for future medical bills.
Benefits of Workers' Compensation Insurance
Here are some ways Workers' Comp benefits both employer and employee:
1. Workers' Compensation Protects the Employer
Workers' Comp coverage helps the employer pay for the partial lost wages and medical bills of the injured worker — in most cases, this includes the actual amount they pay out-of-pocket without coverage.
In injuries resulting in the death of an employee, most Workers' Comp policies also offer a death benefit. This helps to lessen the financial burden of footing the funeral expenses of the employee.
Most states also include an employer's liability insurance as part of the Workers' Comp policy. Policies with this benefit help the employer cover legal fees, settlements, and judgments if the employee files a lawsuit over their injuries.
2. Workers' Compensation Protects the Employee
A work-related illness or injury could lead to devastating consequences for an employee. Thankfully, Workers' Comp is no-fault coverage, so employees are paid even if they are responsible for the sustained injury.
A Workers' Comp policy provides financial benefits to employees in the event of an eligible work-related injuries or illnesses, including a portion of their lost wages.
Workers' Comp insurance allows injured employers to receive treatment and care and return to work without significant financial strain. As necessary, a
Workers' Comp policy may also provide access to compensation for permanent injuries, vocational rehabilitation, and survivors' benefits.
Who Pays the Workers' Compensation Insurance Premiums?
The employer is responsible for paying Workers' Comp insurance premiums. The specific price they pay is determined by many factors, including;
The industry involved (some industries are more work-hazard prone)
The type of work carried out by the employees do
The state in question
The number of employees in the company and their annual payroll
The claims history of the employer
High-risk companies, such as manufacturing and production companies, usually pay significantly higher premiums than companies that are deemed to be lower risk by the insurer.
Get Covered Today
This article is only meant to touch on the basics of Workers' Comp.
If you'd like to learn more about your coverage options, check out our Workers' Compensation product profile. If you're ready to get started, reach out to our Customer Service team today at (800) 825-9489 to get a list of appointed insurance agents in your state.
This Workers' Compensation article is not intended to be exhaustive, provide insurance counseling, nor should it be construed as legal advice. Readers should contact their insurance professional or an attorney for advice.